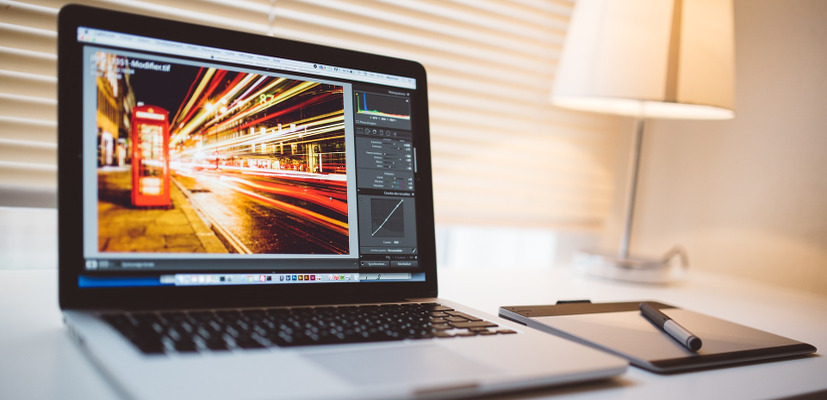 Do you already have an online store? Or maybe you are thinking about starting an ecommerce business? When you preparing online store take care of visual appearance and do everything you can that will help your business to stand above competition.

Start by preparing graphics solutions. Logo, background colors, banner modules – these elements are keys of making your online store unique and special. Ask your friends – each of them prefer beautiful and user friendly shops. They know that good looking (with nice graphic templates), transparent (logo! You need logo! Why? Read this) and trustworthy (professional look) businesses attracts customers. So be transparent and trustworthy as the biggest and most popular e-shops on the world.
The most important is an idea. Think what you want to sell and what are the needs of your future customers. And then take care of graphics at your store.
Graphic design is one of the most important parts of your online store. But do you need help of professional (and expensive as well) graphic designers? Of cours no. By choosing Zencommerce software, basic changes at your store you can do yourself – simply select your favorite graphic template, and then take care of webpage. Select logo, set the main picture, and – if you need them – promo banners. You can do it very easily. And just right here….
How to insert your own logo?
Go to CONFIGURATION > DESIGN > ACTIVE THEME > Header
In section Logo click Read or Change File (if different logo is already added).
The file selection menu appears. Click Browse and select logo from your computer.
Remember: best logo image size is under 700×200 px (but can be any size).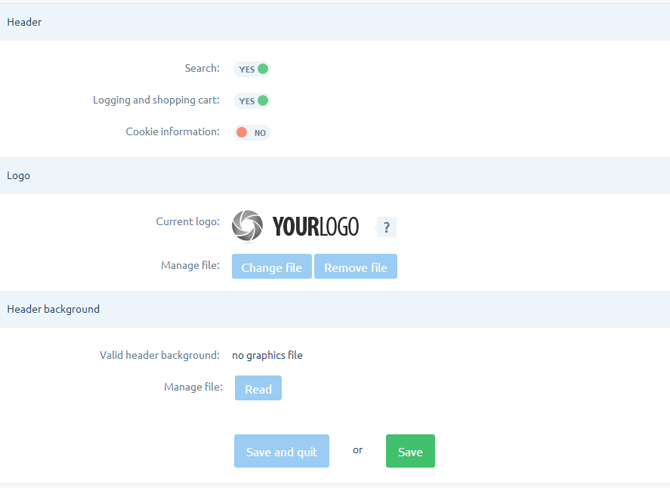 How to change the background of the store?
In section Header Background click Read or Change file, and using the file selection menu, add the background file.
Click Save at the bottom of the page – the background has been added.
While using responsive theme, background image should has 1280 px wide and be about 50 px higher than logo.
In non-responsive theme, background image should have height of the logo, and width of store page (you can check it here: CONFIGURATION > DESIGN > ACTIVE THEME > Basic settings > Page width).
How to change the header in the menu?
Go to SETTINGS > LAYOUT > ACTIVE THEME and from the menu on the left select Own CSS style.
Use this code and the menu header will have a graphic background from your specific file:

Where …/images/ indicates the path to the file,
height specifies the height of the header,
width specifies the width of the header.
How to add a promo banner
Go to MARKETING > BANNER ADS and click Add a banner, then Fill out the form: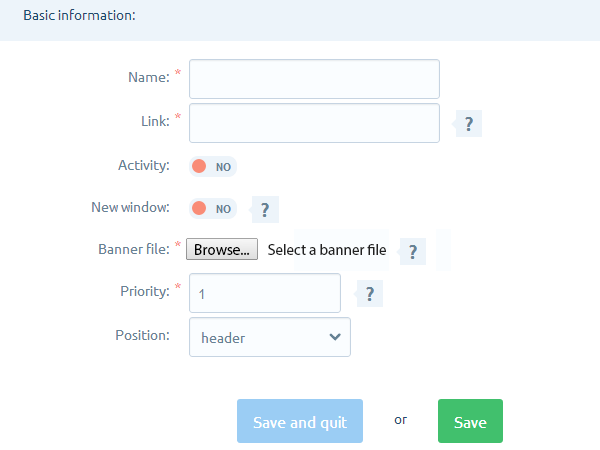 Where Name is the name visible to the administrator
Link: The address of the destination page where the banner leads, starting from http://…
Active: select if you want to display it
New window: defines whether the landing page will replace the current one, or will open in a new tab/window
Banner file: select a banner file – supported file formats are JPG, GIF, PNG and SWF (the file size of the banner, should be adapted to store layout depending on the place where the banner should be displayed)
Priority: the higher priority the more often banner will appears on the page (relative to others)
Position: place where banner displays (you can choose on of them)
And click SAVE.
Important: when you set Position in one of the modules, go to CONFIGURATION > DESIGN > ACTIVE THEME > MODULES and specify the location of the selected module Banner on the side of the store.
Remember the most important thing: less is more! Therefore, do not experiment with the number of graphics, styles and modules on your website. Focus on a nice but simple layout. By choosing Zencommerce software you will be enjoyed not only reliable, but also very attractive online store. And most important – you can modify it by yourself! Try Zencommerce today and ask us about the best deals for graphic templates.