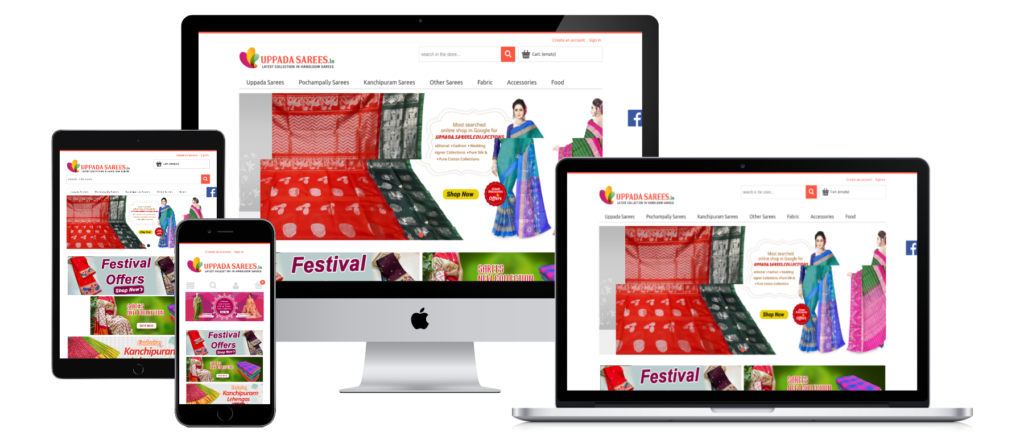 Client Testimonial: Uppada Sarees
Since 2017, Uppada Sarees, a celebrated name in exquisite traditional silk textiles, embarked on a digital transformation journey. The challenges they faced in establishing a seamless online presence led them to ZenCommerce, a decision that reshaped their business operations and propelled them to new heights.
The Challenge: Bridging Tradition and E-commerce
Uppada Sarees, renowned for their handcrafted silk sarees, embarked on an online venture. However, their initial foray into the digital realm came with hurdles. They experimented with various software solutions, grappling with issues that hindered their progress and compromised the customer experience.
Discovering ZenCommerce: A Turning Point
Seeking a reliable solution, Uppada Sarees turned to Google, where they discovered ZenCommerce. This marked the beginning of a transformative partnership that would redefine their online presence. By embracing ZenCommerce's software, Uppada Sarees aimed to overcome technical challenges and provide an unparalleled customer experience.
Seamless Transition and Enhanced Performance
Upon integrating ZenCommerce's software, Uppada Sarees experienced a paradigm shift:
Effortless Operations: Technical glitches, server concerns, and security issues became a thing of the past. ZenCommerce's robust platform ensured uninterrupted operations, enabling Uppada Sarees to focus on their core craft.
User-Friendly Interface: ZenCommerce's simplicity empowered Uppada Sarees to effortlessly manage their online store. Basic computer skills sufficed to upload products and craft captivating banners.
Reliable Performance: ZenCommerce's dependable infrastructure and secure environment provided peace of mind, allowing Uppada Sarees to conduct their online business with confidence.
Recommendation and Expansion
Uppada Sarees' triumph with ZenCommerce's software led them to enthusiastically recommend the platform to peers. Many fellow artisans and entrepreneurs, inspired by Uppada Sarees' success, embraced ZenCommerce and witnessed similar transformations.
Conclusion: Weaving Innovation into Tradition
Uppada Sarees' alliance with ZenCommerce exemplifies the harmony between tradition and technology. By seamlessly blending centuries-old artistry with modern digital commerce, Uppada Sarees extended their reach, enhanced customer interactions, and streamlined operations. Through their journey, Uppada Sarees reaffirms that ZenCommerce's user-friendly platform is a potent choice for emerging businesses aiming to make their mark in the competitive digital marketplace.
More