www.pochampallysarees.com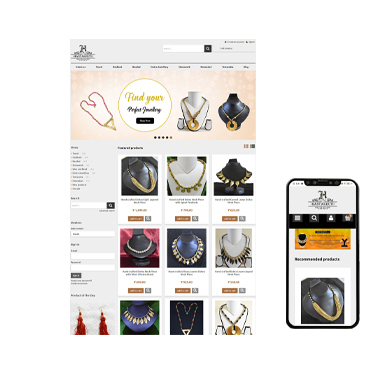 I recently worked with Zencommerce to build my ecommerce website, and I couldn't be happier with the results. The team at Zencommerce was incredibly professional and knowledgeable, and they worked closely with me throughout the entire process to ensure that my website was exactly what I wanted.
What I appreciated most about working with Zencommerce was their attention to detail and their commitment to customer satisfaction. They took the time to understand my business and my unique needs, and they went above and beyond to make sure that my website was not only functional, but also visually appealing and user-friendly.
Since launching my new website, I have seen a significant increase in traffic and sales, and I know that it wouldn't have been possible without the help of Zencommerce. I would highly recommend their services to anyone looking to build an ecommerce website or improve their online presence. Thank you, Zencommerce!
How to do it in www.pochampallysarees.com
Learn how to sell sarees online with our expert guide. Whether you're a small business or an established seller like our client pochampallysarees.com. We offer valuable tips and insights to boost your sales.

how to sell sarees online

As more and more consumers turn to online shopping, ecommerce platforms like Zencommerce have become increasingly popular. With Zencommerce, anyone can build a professional, easy-to-use ecommerce website, regardless of their technical skills or experience. Recently, Zencommerce had the pleasure of building a new website for one of our clients, PochampallySarees.com. PochampallySarees.com is a leading retailer of high-quality sarees, with a focus on traditional Indian designs and exceptional customer service. We're proud to have partnered with PochampallySarees.com to help them achieve their ecommerce goals and reach more customers than ever before. If you're interested in starting your own ecommerce business to sell sarees online like PochampallySarees.com, you're in luck! With Zencommerce, it's easier than ever to build a professional website and start selling your products online. Here are some tips to help you get started:
Do Your Research: Before you start building your website, it's important to do your research and understand your target audience.
Who are your customers?
What types of sarees are they interested in?
What price points are they willing to pay?
Use tools like Google Trends and keyword research tools to gain insights into what people are searching for related to sarees.
Choose Your Products:
Once you understand your target audience, it's time to choose the products you'll sell on your website. Consider sourcing high-quality sarees from reputable manufacturers, and focus on offering a wide variety of styles and designs that appeal to your target audience. Build Your Website: With Zencommerce, building your website is easy and straightforward. Choose a template that fits your brand and customize it to your liking. Make sure your website is mobile-friendly and easy to navigate, with high-quality product images and detailed descriptions. Market Your Website: Once your website is up and running, it's time to start marketing your business. Use social media platforms like Facebook, Instagram, and Pinterest to promote your products and engage with your target audience. Consider investing in paid advertising to reach more potential customers. Provide Exceptional Customer Service: One of the key factors in building a successful e-commerce business is providing exceptional customer service. Make sure you're responsive to customer inquiries and complaints, and strive to exceed your customers' expectations at every turn. By following these tips and leveraging the power of Zencommerce, you can start your own ecommerce business selling sarees like PochampallySarees.com from the comfort of your own home. With dedication and hard work, you can achieve ecommerce success and build the business of your dreams!